A wedding requires the best since it is one of the happiest moments in a couple's life. In fact, you need to plan well for every detail of the wedding to ensure that the day goes well. Since it is your day, you will want to dress the part and look as stunning as you can. In order to find the perfect wedding dress for the occasion, it is always advisable that you take time to go through the latest wedding dress trends. This will help you in choosing a wedding gown that is not only elegant but also stylish in every way. Besides, choosing a trendy wedding dress will also prove to your guests that indeed, you are a woman with some sense of class, plus it is ideal in enhancing your overall image.
There are several wedding dress trends that you can choose from based on the theme of the wedding and also the kind of appeal that you and your groom want to create. In order to save you from the stress of conducting research on an ideal wedding dress, below is a comprehensive review of 2013 wedding dress trends. By knowing the latest wedding dress trends, you will be able to get proper guidance towards identifying the best outfits for the occasion.
The Short Story
The short story is a very unique wedding dress. In fact, it is very distinct from the usual wedding dresses that most people are aware of. The dress is short in length as suggested by the name. It flows down just slightly above the knees giving a very attractive appeal to the bride. The design of the dress is enhanced with beading for a more romantic tone. It can be worn throughout the entire ceremony or for a getaway.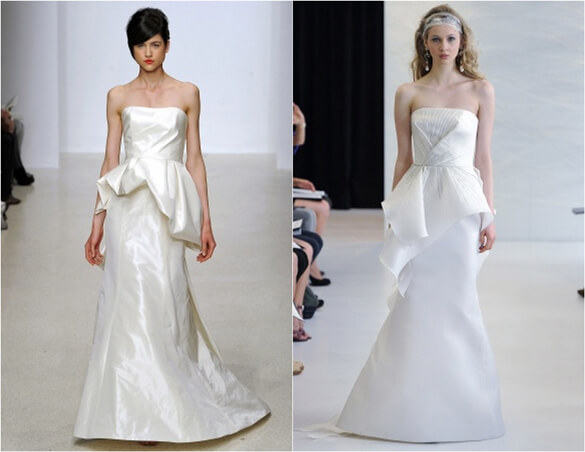 Classic Black And White
Weddings are usually filled with more vibrancy and colour. However, you must note that your wedding dress does not necessary have to bare all these colours as that will make it look a little cheap. Colour selection for your wedding dress should be given much priority to ensure that you get a wedding gown that not only matches the theme of the wedding but is also outstanding. The St. Pucchi ball gown is a classic wedding dress that is designed with a skillful choice of black and white colours. The dress has got a bare back and has patterns around the chest and at the bottom.
Perfect Peplum
Even though most women fear trying Peplums, they are among the hottest wedding dresses that you should consider if you are planning a wedding in 2013. A combination of Peplum and floral lace appliqués will give you the most stunning look that will keep all eyes on you. For a unique but elegant look, you can go for a peplum skirt and a strapless dress or simply a peplum dress.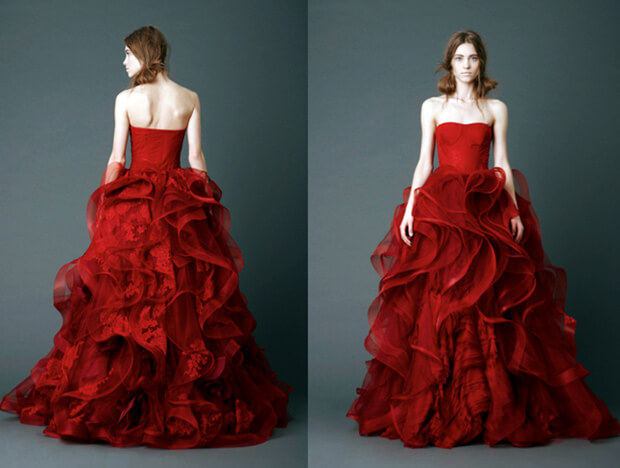 Long Sheer Sleeves
This season, most designers are shifting their trends to wedding dresses with long sleeves that cover up arms down to the wrist. There are several designs of such kinds including those with sleeves made from opaque fabrics as well as those designed using other light weight fabrics. Most of them also come with several other optional enhancements like lace, chiffons, tulle, embroidery, bead work and more. For a more classic look, go for those with lighter, transparent fabrics.