Hello guys, winter has been started and now it's time for some warm dresses like sweaters, sweatshirts, jackets and much more. There are a lot of varieties of jackets available in Men's fashion world and it's really difficult to choose what to wear and which combination will give you a badass look.
Want to Give a Badass Look with Puffer Jacket?
If you want to rock this weekend and attract girls by looking handsome but worried about your winter collection and want to know a few winter fashion tips then we are here to help you.
Today we are going to tell you guys about Men Puffer Jackets, well puffer jackets are really very helpful in winters because it saves you from fog and cold as well as give you a stylish look. Now below down I'm going to tell you 10 ways to wear a mens puffer jacket:
Sky Blue Puffer Jacket with Dark Blue Damaged or Denim Jeans-
This is really an awesome combo if you love to wear jeans. You can wear any sky blue puffer jacket with a dark blue or slightly blue touch damaged jeans. You may have normal denim jeans as well but keep it in mind that jean's color must be dark. And in shoes, you should choose a leather sneaker or a denim sneaker will be good as well if you don't want to wear a leather sneaker. Your sneaker's color may be blue, black on brown if it is leather. And if you want to keep your puffer jacket open then you may have a dark or white tee.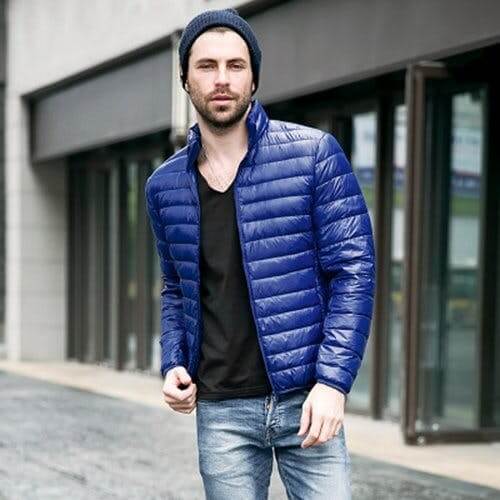 Puffer Jacket with a Hoodie tee layering:
This combo is best for skinny peoples because for skinny peoples layering is like a boon so you may have a hoodie tee and puffer jacket with denim jeans and a leather sneaker.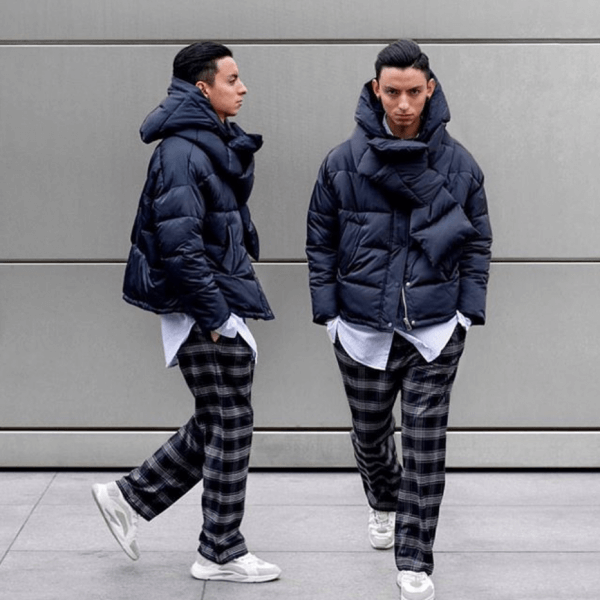 Puffer with a trouser-shirt combo:
You will rock the floor if its office party with your colleagues and you has to come in the selected uniform of your office, simply wear a trouser and shirt with a low puff jacket with a matching color of your trousers and a matching belt and sneakers.
Wear like a Pro:
Wear a bomber puffed jacket with your outfit with a tonal means shades of gray and black and for footwear you may have a sneaker or boot will be also good. This is also one of the 10 ways to wear a men puffer jacket.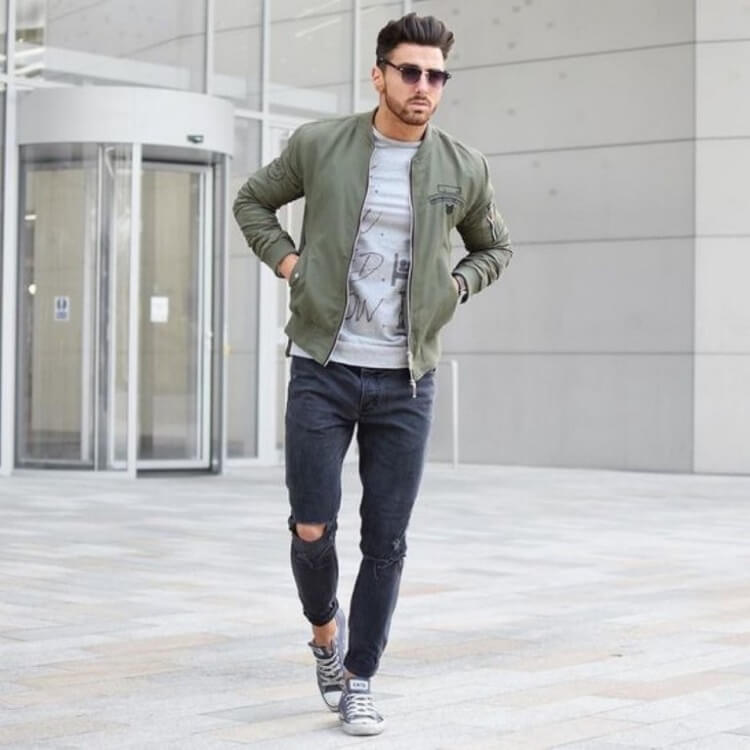 Look Badass with Slim fit Puffer Jacket:
It is one of the best combos with Puffer Jacket because the slim fit puffer jacket doesn't make you look heavy or gaudy. You can wear it with your slim fit faded damaged or normal denim jeans and a black and white loafer with a nice pattern on it.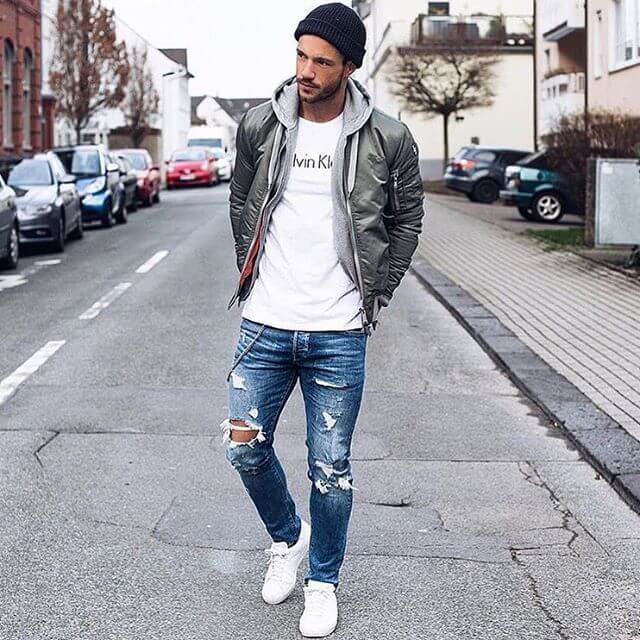 With open front for a dynamic entry:
This is the best way to look handsome in winters because by opening front of your jacket you can show that amazing pattern of your tee or shirt. Simply wear a puffer jacket and any tee with an amazing pattern. And you can wear slim fit denim jeans with darker shades and a classy loafer or just a simple sneaker. Simply wear it all and go with full confidence.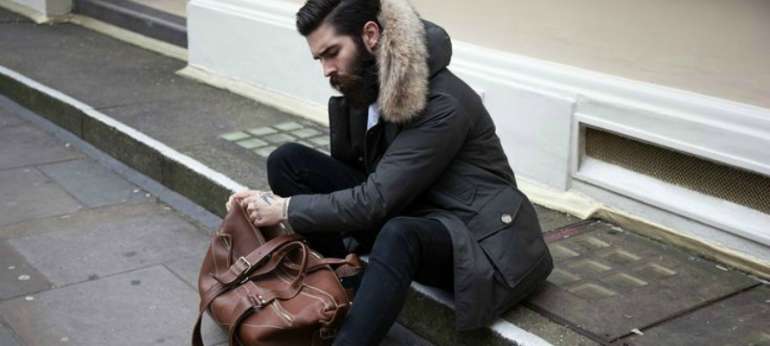 Go stylish with the orange and black epic combination of your puffer jacket and damaged black jeans:
Simply wear a long white tee and an orange sweatshirt a puffer jacket with black outer and orange inner side with damaged black jeans and an orange casual shoe.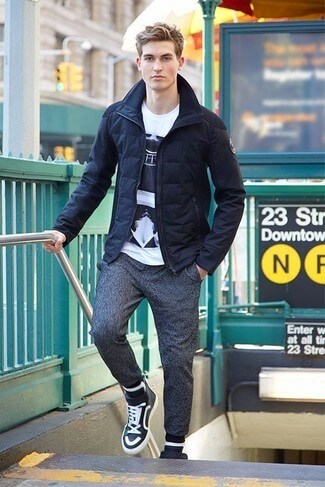 A Simple but Classy look with the help of Puffer Jacket:
Just wear a simple shirt with middle size checks and a pin folded trouser and any Puffer Jacket. In terms of shoes, you may have black color vans. It's really a simple and rocking combo that you may try anytime.
Go for a Red Sleeveless Puffer Jacket with a Brown Leather Sneaker:
If you have a bulky or heavy body then you can go for sleeveless puffer jacket with a sweatshirt and any simple tee. A red puffer jacket with any light color sweatshirt and dark jeans or trousers with a brown leather sneaker.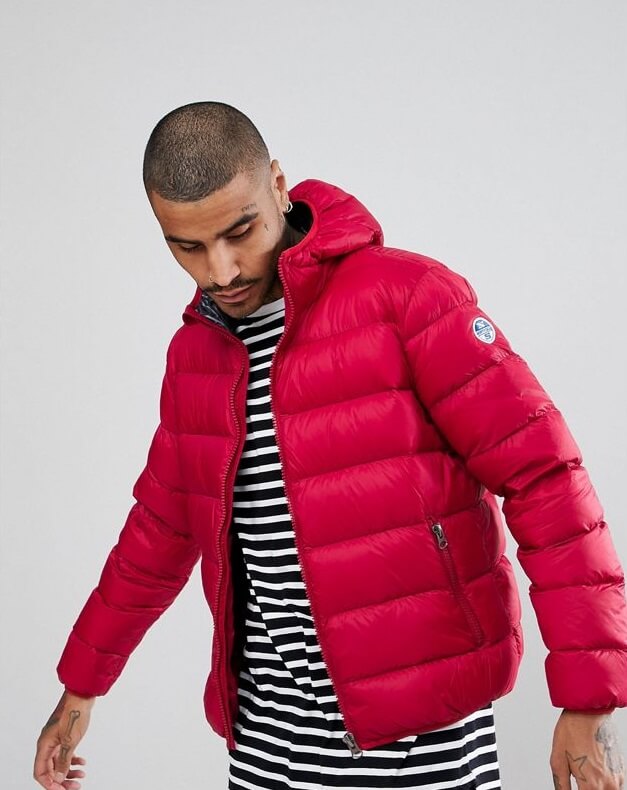 Black and White Winter Trend:
Black and white is the best combo in all season so you can go for it in winter as well. Wear a Black Puffer Jacket and a White tee with a black pattern on it. And for below wear any black jeans with a white sneaker or loafer. This combo will be best if the front is open and white tee has a black pattern on your chest.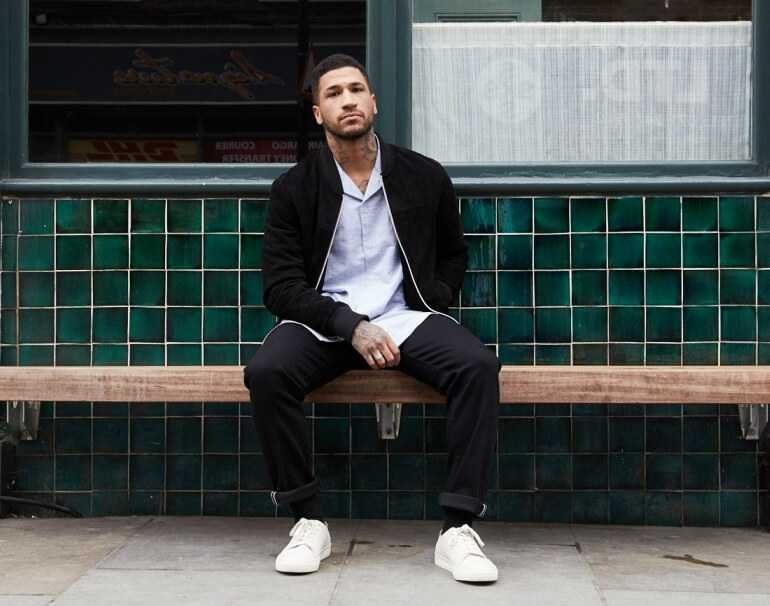 Conclusion:
These were 10 ways to wear a puffer jacket, I haven't tried all of them but I'm damn sure that these will really look amazing on you if you choose color combination and clothes quality wisely according to you. There are many combinations and ways available but I have mentioned the best 10 ways to wear a puffer jacket.