This season, pastels, stripes, lace, and floral styles will be dominating the runways. The trends are exciting and can actually be combined given the emerging tendencies of texture layering. Feminine silhouettes combined with sporty undertones, or simply classical suits combined with a casual touch are popular this season. The trends are definitely not boring but at the same time also easy to wear if you're only looking for a hip everyday look.
Petite Pastels
Frankly after a long winter all the beautiful colors are back again; this time a bit more toned down though for those that didn't ancy last season's neon marathon. While still in March and April, nitted pullovers and sweaters come in handy when battling cold emperatures. Surely most people have black blazers, but investing in blush peach or a pastel blue blazer is a great way to spice up your ardrobe. Rosy tones, opaque oranges, light greens, and pale purples re all nuances popular this season.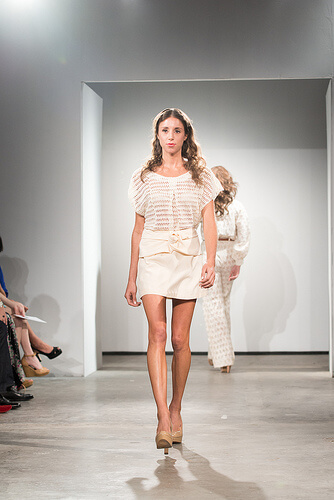 Lacy Boudoir
The sexy and sophisticated nature of lace most likely lies in its emi-transparent texture. It is the combination of the unknown and the isible that shows us that there is more to this fabric and what is nder it, than what meets the eye at first. It's important to wear ace that is classy and simple to avoid an 'overdone' and unattractive ook. For instance, instead of a mini skirt, a pencil skirt looks more efined in lace. Lace can also be casual if combined with a sweatshirt r a t–shirt along with a pair of jeans. While black lace is more legant, white lace is more clean and laid-back.
Graphic Lines
Black is a classical color and so is white; therefore the two ombined can only result in pure magic. This magic comes in the form f stripes, be it thick, thin, vertical, or horizontal lines. The tyle of course depends on your personal choice but stripes are easy o wear weather casual or classy. The sporty look in the form a weatshirt adds a bit of a twist to a pair of colorful sneaks and a air of black jeans, whereas a full suit is fashion statement á la eetlejuice in itself. Whether sporty or elegant this style is unique ndeed, and of course the black and white stripe trend does not mean ou can't sneak in a couple of yellow, blue, or red ones in.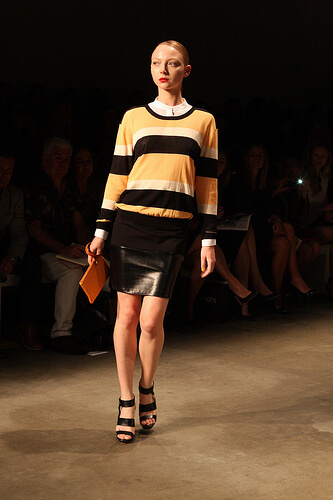 Garden Florals
Flower power is also quite popular this season. The most practical ay to wear this look is to invest in a pair of trousers as these are asy to wear with casual t-shirts or even more elegant shirts or lazers. Flowers come in all kinds of variations, from exotic musa – nd lotus prints to more common flower prints such as roses and tulip otifs. Moreover, nothing radiates summer more than a floral dress in ts full glory with a pair of espadrilles or a pair of stilettos
dependent on the occasion.